The latest hype among celebrities is cannabidiol, commonly known as CBD. CBD is an active ingredient in cannabis derived from the hemp plant. It has all the benefits of cannabis, but it's not a psychoactive and it definitely won't get you high (sorry).
The benefits are explained below by real-life examples of CBD-use among celebrities. In short, CBD can reduce stress and anxiety-symptoms, it can calm down feelings of depression, insomnia or pain and it is available in all kinds of structures such as edibles, topicals, oils and many more.
Kim Kardashian's CBD-Themed Baby Shower Immense Hit Among Celebrities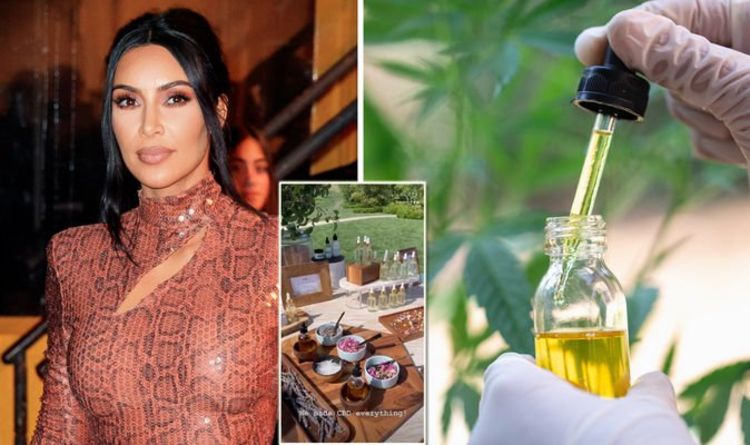 Before the birth of Kim and Kanye's fourth child Psalm in 2019, Kim Kardashian was extremely nervous. Her solution to feel more at ease? She organized a CBD-themed baby shower! Kourtney Kardashian, Chrissy Teigen, Paris Hilton, Anastasia Soare, every important celebrity and influencer had to see with their own eyes. They were all invited to relax with CBD and eventually they even meditated for a while. The baby shower featured chocolates, bath salt, lotions and much more CBD-infused fun. The party was a huge success and various attendees were nothing short of amazed by the CBD products like body oils and face masks!
Since then, Kim is head over heels in love with the product. She admitted it's one of the best products she ever tried. She is using CBD tincture on a daily basis for rejuvenating her body and mind. The benefits she experienced since starting with CBD have been immense, and she couldn't be more clear about it:
"I got into CBD a few months ago. It saved my life. Even to sleep at night. I like the gummies. I will just use a little bit and fall asleep [laughs]." – People
Alessandra Ambrosio Uses CBD Before Every Fashion Show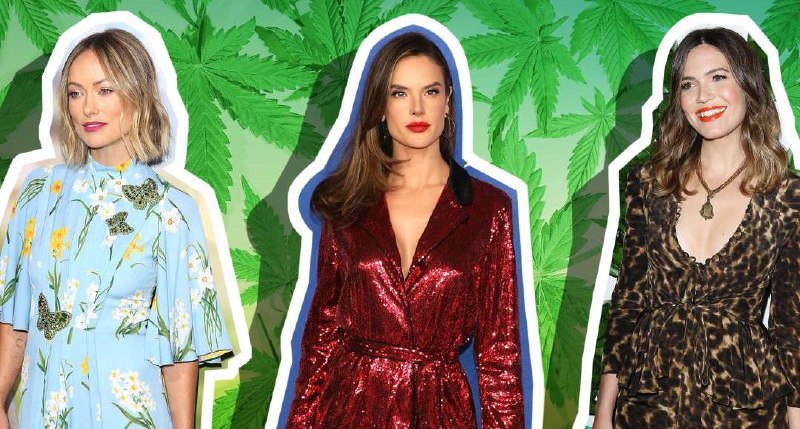 Alessandra is one of the most famous Victoria's Secret models and she has been very vocal about CBD and its effects. She claims CBD oil helps her to stay calm when she gets anxious:
"The most important thing to do before a show is to sleep eight hours the night before. It's hard because the mind gets anxious, so I tried CBD oil tinctures, and I think it helps." – Well + Good
Another CBD product Alessandra is absolutely stunned by is hemp infused water.
Kristen Bell: CBD Can Be Essential When Dealing With Anxiety Or Depression
Kristen Bell's Instagram page is a testament to the benefits of CBD as well. Her reasoning is that anything is allowed when dealing with anxiety or depression:
"Always keep trying. Don't give in. Talk to friends, therapist, take CBD or a medication, get outdoors, work out, write down lists of positive things."
A specific product she loves herself is CBD body lotion– it helps her muscle recovery after a tough workout.
The CBD Bathing Secrets Of Emma Roberts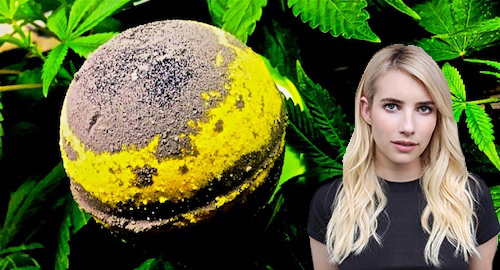 On Instagram Emma Roberts recently let her followers in on her bathroom secrets and habits. The one thing that stood out was her obsession with CBD bath bombs.
According to her, it helps to soothe the entire body and achieve ultimate relaxation.
UFC-Star Nate Diaz Publicly Praises CBD Oil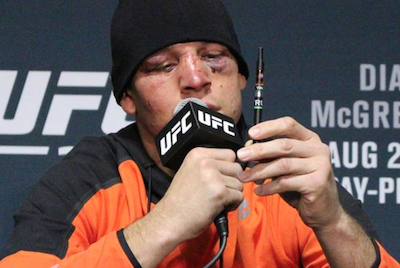 Nate used CBD from a vape pen on live television. He did so in a post-fight interview – just after he won another UFC-fight. Later on he stated that he's in love with CBD oil and that it helps him to relieve pain, heal injuries and gain focus.
Dakota Johnson Relies On CBD To Fall Asleep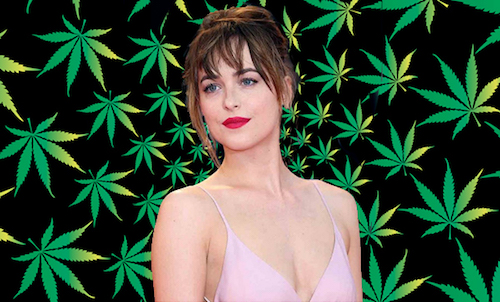 Dakota confessed she got to know CBD and its benefits while travelling for her work. She often found herself sleep-deprived and exhausted when she arrived at her destination. Nowadays she relies on CBD oil tincture, she told Elle.
How Jennifer Aniston Lives A Stress-Free Life
Jennifer uses CBD oil tincture to deal with any anxiety, stress or pain. She feels it helps a great deal in making her life more comfortable, without the negatives of marijuana for example. She also mentions CBD muscle rub as an excellent tool to feel better.
CBD Works Wonders For Tom Hanks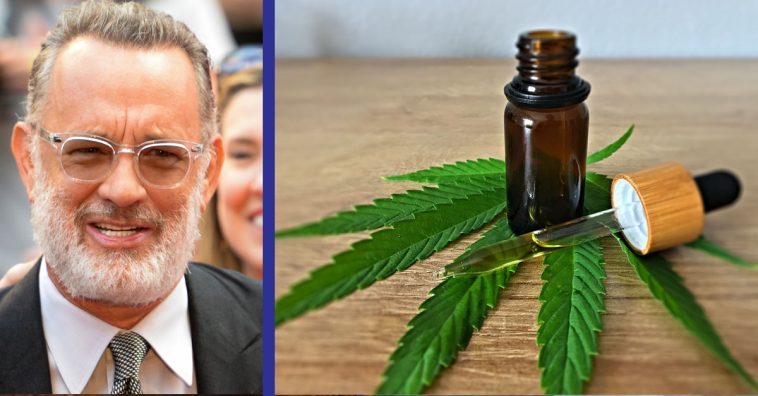 Tom has always been very transparent about his use of CBD, mainly to overcome his anxiety-issues and to lower his pill intake:
"The first time I ever tried CBD was to help sooth my anxiety. I was fed up with taking various pills to try and make me 'better'… It wasn't how I wanted to live my life anymore. So I gave CBD capsules a try. It was a huge relief for me to feel like myself, yet the edge was gone". – CNN
CBD Has Huge Medical Potential According To Seth Rogen
Seth is very passionate about CBD and its medical benefits. He founded a non-profit dedicated to Alzheimer's disease and he is an advocate for medical marijuana use. It's only logical Seth sees the value of CBD.
CBD Is The Cornerstone Of Leighton Meester's Morning Routine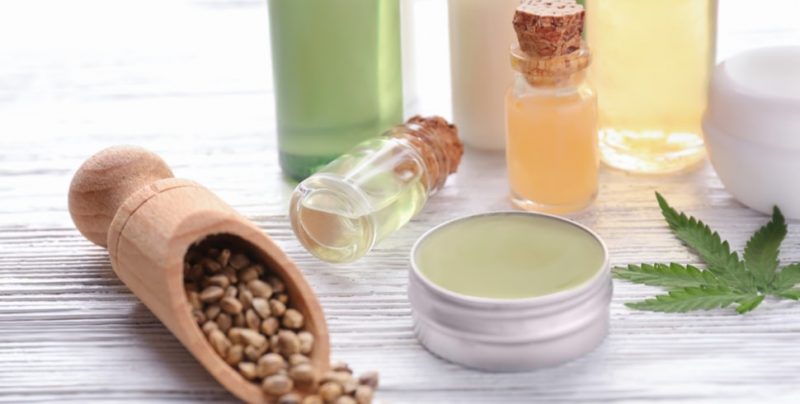 Gossip Girl-star Leighton Meester uses CBD balm to reduce stress and tension in her shoulders and hands. The balm also helps her to keep herself centered and rejuvenated as a busy, working mother. She told Shape in 2019 she takes the CBD balm along with her morning tea. CBD has become a part of her morning routine.
Megan Rapinoe: CBD As A Tool To Remain The Best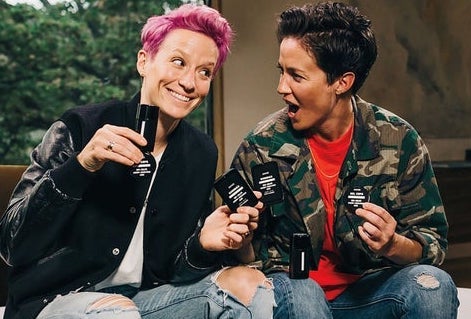 Megan, as one of the world's best female soccer players, is absolutely convinced CBD helps her to remain at the top of her game. Tincture regulates her sleep and help her to relax on long flights. To recover after intense soccer games she is using pain relief cream. She loves the fact that it's organic and pure – she doesn't want her body being filled with chemicals and wants her recovery process to be as natural as possible. CBD fits her criteria to a T.