Few taboos are left in today's day and age. The time when we were ashamed to talk about our sex lives are long gone (but it's okay if you're not comfortable talking about your own). Celebrities lead the way when it comes to sharing insight about masturbation and sex toys. We've comprised a short overview of celebrities' most detailed stories about their kinky lives behind closed doors.
Rabbit Vibrators Are The Best Gifts Eva Longeria Ever Gave to Her Friends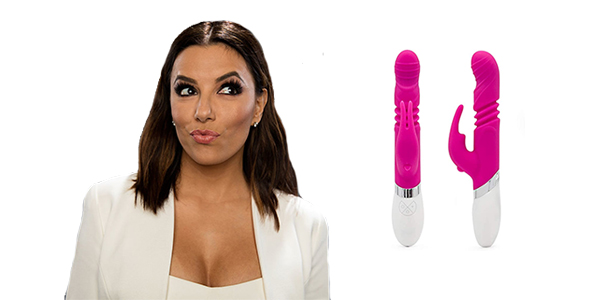 In an interview with SELF in 2005 former Desperate Housewives-star Eva Longeria said that it's a shame that she didn't try sex toys earlier. "I did not begin enjoying sex until I started masturbating. Before that, I really wasn't sexual. I bought my first vibrator three years ago. It's a shame I didn't discover it sooner". And guess what? She also revealed that she is giving rabbit vibrators to all her girlfriends now. "They scream when they unwrap it. The best thing I can give them is an orgasm!" We agree, Eva, a dildo beats a scented candle every time! All the more reason to keep Eva very close to you when she is your friend.
The Story of Jennifer Lawrence, Her Maid and Some Buttplugs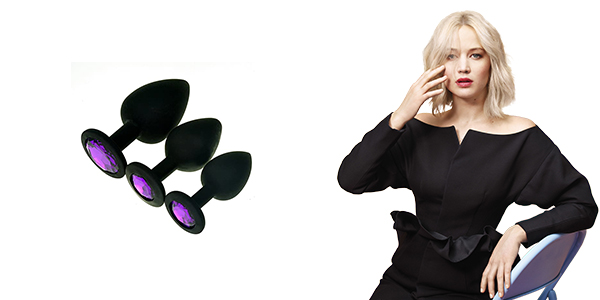 3 Pieces Silicone Butt Plugs , Amazon
In an interview with Conan O'Brien actress Jennifer Lawrence once told a hilarious anecdote about another popular sex toy: the buttplug. A hotel housekeeper once found a big box with a 'copious amount of butt plugs in all different kind of colors' under her bed. Well, the origin of that box was a long story Jennifer Lawrence said – she got them as a inside joke from a friend. She knew the maid was coming so Jennifer was like "Oh, I'll just shove them under my bed so she doesn't see all these butt plugs". But as a good maid befits the girl also cleaned under the bed. When Jennifer came back all of her new sex toys were orderly placed in a beautiful display on her bedside table. Of course, Lawrence claims that the toys were giving to her as a joke, but we bet she might have decided to try them out before throwing them in the bin!
Rihanna Is Even More Kinky Than You Thought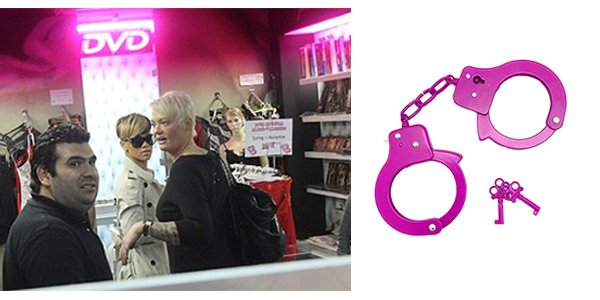 On a trip to Paris a couple of years ago Rihanna visited a sex store in 'The City of Love' and reportedly dropped over $1,500 on sex toys within five minutes. Sources told the New York Post that "She didn't want any assistance picking out items, she exactly knew what she was after". RiRi picked out massage candles, some sexy lingerie and *gasp* a pair of handcuffs. We guess Rihanna wasn't lying when she sang: "I may be bad, but I'm perfectly good at it".
Miley Cyrus Is NOT a Beginner When It Comes to Sex Toys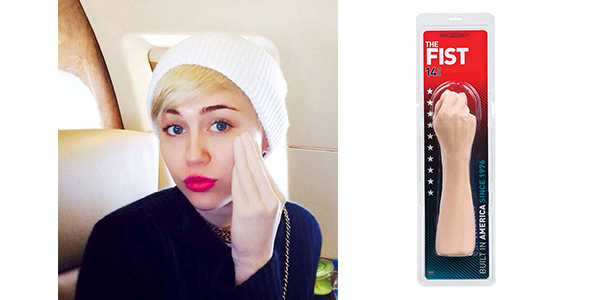 Nope, that is not Miley's hand. Please look again. This X-rated goodie is called the 'Hand of Adonis' and is very popular among experienced fisting enthusiasts. Miley is embracing her sexuality – and she wants the world to know. She brought the sex toy up several times on her social media accounts, caressing her face and rubbing her thighs with the sex toy. We are not sure if she is just making fun or that she actually tried the toy herself. The tool is 16 and a half inches in length and according to the product description "not intended for beginners". Duly noted.
Lady Gaga and Her Vibrator Live Happily Ever After
Lady Gaga is one of the busiest musicians around – she is touring around the world almost all the time. In an interview with The Sun she discussed how her busy schedule interrupts her search for romance. She revealed that she has other ways to relieve the tension: "I am single and a workaholic. I'm very lonely, but I'm good. Me and my vibrator are very happy". A generous fan in Australia once even offered her a silver rabbit vibrator on stage during a show. Lady Gaga showed the rabbit vibrator to the audience and said: "Thank you very much for worrying about my sex life, but I will assure you that all is well". We're happy to hear that!
Maggy Gyllenhaal and Her Friends Share the Same 'Interest'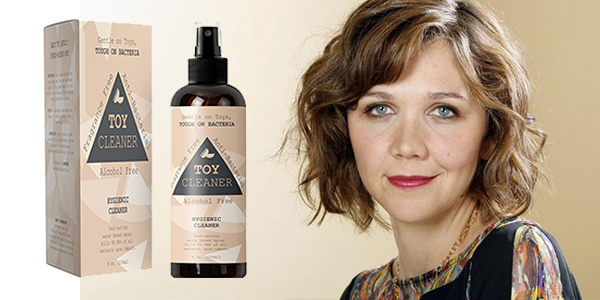 Toy Cleaner , Amazon
When promoting 'Hysteria' – a film about the invention of the first electric vibrator in the 1880s – Maggy Gyllenhaal talked openly about her personal usage of sex toys. She admitted that after working on the film she fell in love with the buzzy devices. She admitted that she even shares them with friends: "By the time I finished the movie I'd been sent maybe 15 vibrators by different people in London with vibrator stores. It was a pleasant surprise. So yeah, I have an incredible collection, and I actually only use like one or two of them. I lend them to my friends, and they'll take them for six months at a time." Hmm… okay, Maggy. As long as you clean them!
Only Gold-Plated Sex Toys Are Good Enough for Beyoncé & Jay-Z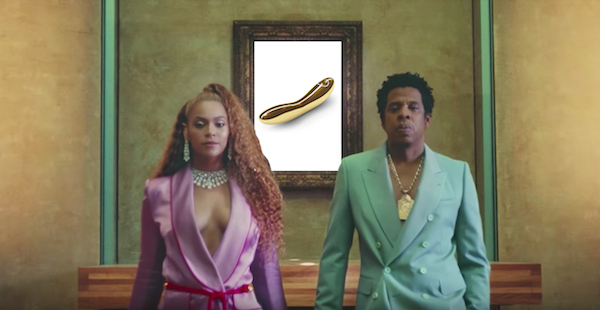 Even when you're crazy in love a bedroom boost is always welcome. Power couple Beyoncé and Jay-Z understand this and have an appetite and love for playing with lavish sex toys. They once were spotted entering Babeland – a well-known and high end sex boutique in New York City. That day they reportedly spent $6000 on a wide array of X-rated goodies – according to a source who spoke to RadarOnline.com they didn't buy anything tacky or extreme, just kinda all the "essentials". But they did pick up some gold-plated pieces. What else did you expect? Their sex toys are just as glamorous as anything else related to the two!
The Purple Penetrator Gift Madonna DID Want You to See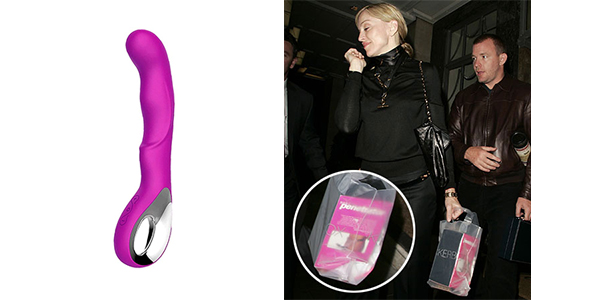 Back in 2007 the "Like a Virgin" singer Madonna celebrated the birthday of her then husband Guy Richie in the luxurious Claridges hotel in London with some friends. What gift do you buy the man who is married to one of the world's richest women and has everything he could wish for? You probably guessed it by now. Guy Ritchie was too embarrassed to carry the intriguing gift away – so his wife stepped in. The queen of pop carried the see-through bag with the clearly visible so-called Purple Penetrator proudly away.
Alicia Silverstone Has a Thing for Natural and Feminine Sex Toys
Actress-turned-activist Alicia Silverstone even transmitted her eco-friendly philosophy into the bedroom. In 2012 she endorsed to a product called 'The Leaf'. The Leaf is an environmentally-friendly vibrator made from environmentally-friendly and non-toxic plastics. Besides that she also likes the shape of the toy – according to Alicia other vibrators and dildos often are a little bit too.. 'phallic': "I like that The Leaf looks natural and feminine. Like leaves and flowers.. Not scary".