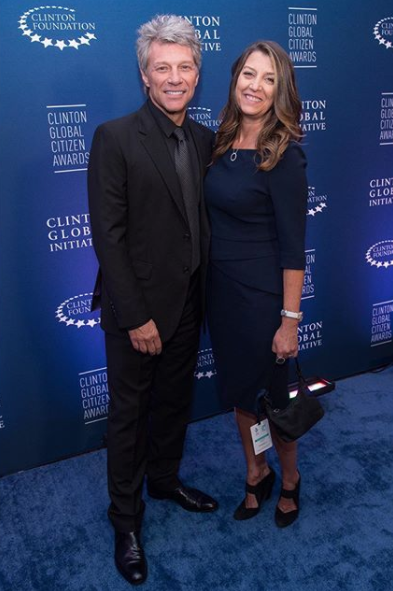 As it often happens, a marriage with an international superstar makes their spouse stand aside and get outshone by their famous significant other. Dorothea Hurley unfortunately is not an exception. Her husband once was the most gossiped, wanted and discussed celebrity on Earth. Jon Bon Jovi knows what it's like when everyone is talking about you. But what about the woman behind the man, what about Dorothea Hurley?
Dorothea Was Anything But A Girly Girl
Dorothea Hurley was born on 29 September 1962 in New Jersey, United States. When her classmates and friends were dreaming of boys, kisses and romance, she was actively involved in karate training. Her main aim was holding the black belt, and her dream had soon come true.
Her parents are Donald and Dorothy Hurley. You may think that her family named Dorothea after her mother, and you will be partly right. The Hurleys had had a close friend who had died from cancer when Dorothea was born. Her parents combined the names of their deceased friend and her mother, Dorothy, and came up with Dorothea.
She attended Sayreville War Memorial High School in Parlin. It was there where she and her future husband Jon met. But we'll talk about that later. A passion for karate was the most important thing for Dorothea at that time. That is why she became a junior champion in karate in high school. Boys her age quickly learnt not to mess with her!
She gave up her passion to escort Jon in his tours. When she gave birth to their children, Dorothea decided to keep on developing her karate skills. So she became a karate instructor and a 4th-degree black belt holder in 2002.
As it turned out, she was nominated the 4th best greenbelt karate master internationally back in 1992. Dorothea could've been the 1st one, but she didn't want to sacrifice her family for a career.
So Dorothea And Jon Met. How Did They Get Married?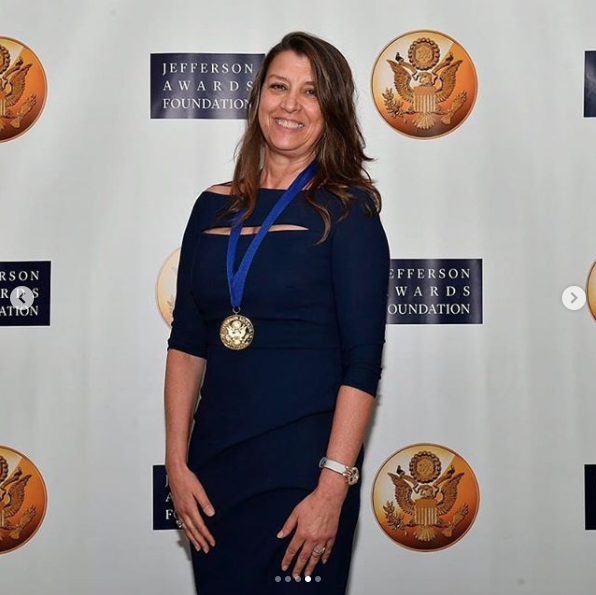 Jon Bon Jovi is the husband of Dorothea. He is a frontman of Bon Jovi, a songwriter, a producer, an actor, and a restaurateur. He and Dorothea own a community restaurant called "JBJ Soul Kitchen" that helps people in need to get food.
The couple met in Sayreville High School during a school test. Their story began when Jon was transferred to this school and tried to cheat on the test. He couldn't stop glancing at Dorothea's answers, and she didn't mind. It was love at first sight. Dorothea was seeing another guy at that time, though. His name was Bobby, and he was the best friend of Jon. Bon Jovi even had a song "Bobby's girl" that tells about those times. That is why the two couldn't make their relationship work back then.
When they finally started dating, something was definitely on their way. Jon and Dorothea broke up, and Jon has even been dating American actress Diane Lane for four years. The actress eventually chose the guitarist, Richie Sambora, and Jon reconciled with Dorothea.
In 1989, the two made a scandal when they announced their marriage to the whole world. During Bon Jovi's LA tour, the love birds went to Las Vegas to secretly marry. In one of the interviews, Jon revealed: "And so we ran off to Las Vegas. Didn't tell a soul. We took a little shuttle plane, jumped in a cab, and didn't even stay the night. The cab driver was the witness." How romantic!
But the band fans had a different opinion. The hysteric female audience was mad and angry with their sex-symbol for exchanging the vows. Jon's manager said it was the wrong career move. His mother didn't support this decision either. Nevertheless, Dorothea and Jon were happy.
In 2002, Jon gave an interview to the New York Post. He lovingly spoke about his wife: "She's the muse for all the syrupy ballads I write. It's obvious. I try to relate it without being too saccharine. Yeah, it definitely comes out in the songs". He was talking about "Bed of Roses" from the fifth album "Keep the Faith" (1992).
Dorothea has always been by his side during his endless tours and crazy performances. Although, she wasn't always the fan of his music: "She's wasn't always the biggest fan of my music. She's learned to like it".
Now the couple is happy and often goes on vacation together. Even after 30 years of marriage, they don't grow tired of each other and love spending time together. The last time they were spotted by paparazzi, Dorothea, Jon, and their kids were enjoying the Caribbean.
What's Going On With Their Daughter Supposedly Being A Drug Addict?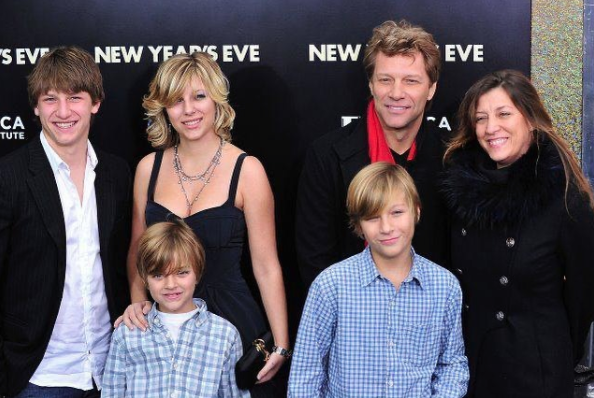 Four children are a lot, especially if parents are extremely busy with their careers and professional life. But don't get it wrong. Dorothea and Jon are good parents and have always protected and supported their kids whenever they needed it.
The four kids are named Stephanie Rose, Jacob, Romeo, and Jesse James. Three sons and one daughter. Yeah, Stephanie is certainly a miracle for her parents. Or was until 2012 at least. See, when Steph graduated from school, she went to college and started living in a dorm. College years have their ups and downs. Some students feel lost in life, others dive into studies, but most of them try new "exciting" things.
Stephanie wasn't an exception and started doing drugs. In 2012, a drug situation became critical, and she even got arrested by the police for possessing drugs. She was unconscious in a hostel and nearly died due to heroin overdose.
No matter how hard Jon and Dorothea tried to keep it as quiet as possible, the press found out about the incident and called the couple "bad parents". Nevertheless, both of them were always there for Stephanie when she was recovering.
Why Jon And Dorothea Created The JBJ Soul Foundation And Became Philanthropists?
They have always been good-hearted and kind people, this is the main reason. In 2006, they created a foundation named after Jon to fight poverty, hunger, and inequality across the US. The JBJ Soul Foundation is a non-profit organisation financed by the couple and volunteers.
The JBJ Soul Kitchen is a project that was launched in 2010. It is a community restaurant with chefs, waiters, cashiers, and other workers who cook for people in need and give second chances to people who have lost themselves.
In 2017, Dorothea spoke about JBJ Soul Kitchen. She said: "7 years ago when we served our first Soul Kitchen meal at St. Anthony's, we had no idea if this all would work. 7 years and 72,000 meals later, we are grateful to be part of this amazing community. We work together. We give people support. We give people hope. And we like to say: "Hope is delicious."
Other projects of the foundation are The B.E.A.T Center, JBJ Soul Homes, and Joseph's House. The Bon Jovi family has done impressive work, and they surely deserve public attention and respect.
What Social Network Dorothea Uses?
Dorothea hasn't registered at any of the social media yet, in contrast to her husband, who has an active Instagram page and 569K followers. The only place where you can see Dorothea is TV and YouTube when she gives interviews to the press and journalists.