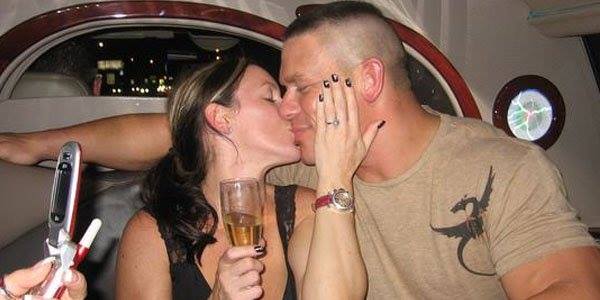 You would think no one can ground John Cena, but, well, once upon a time, an ever-smiling woman called Elizabeth Huberdeau had John Cena locked in a ring. It, perhaps, could be the reason why he sort of disappeared at the time!
The background of Elizabeth Huberdeau
Elizabeth Huberdeau is a beautiful brunette. She was born in Massachusetts, Newbury, to be precise. John Cena also comes from the same place. Probably, this is the reason why they eventually hooked up. Details about her schooling are a little sketchy, but, taking into account the fact that Elizabeth and Cena were high-school sweethearts, she probably attended one of the schools Cena attended. The schools include Central Catholic High School and Cushing Academy. Chances are Elizabeth attended one of those schools; we just hope she opens up soon.
Elizabeth, or Liz, as she is often called in the social circles, also attended college where she is rumored to have attained a business studies-related degree she planned to use in establishing a career in real estate and business. She attended Springfield College.
Elizabeth Huberdeau's claim to fame
Huberdeau had a pretty much quiet life before 2009. When John Cena announced their engagement in 2009, she catapulted to overnight stardom. We can easily say she became a star by association, but she did become one hell of a star. Before the marriage, she had set out to conquer the modeling scene. She did get a couple of modeling gigs but didn't quite make it in the cutthroat modeling industry. It was probably for the better, though, because her marriage to the WWE superstar was enough to earn her celebrity status. Her following shot in a short space of time, and she had her face gracing tabloids, sometimes for the wrong reasons, but that is the price of fame.
Liz and Relationships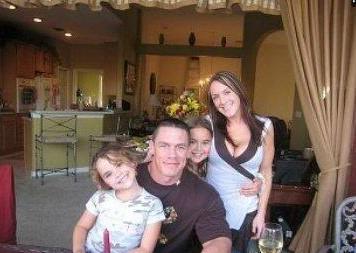 Although her marriage to John Cena was her claim to fame, she has done quite a good job, especially after their divorce to keep her life quiet in terms of relationships. John and Liz were high school sweethearts. Even though John Cena was famous from the early 2000s, their relationship was officially announced in 2009. The announcement was quickly followed by their wedding.
The marriage did not last long, though. They got divorced due to the reasons we will discuss. After her marriage to John, Liz has kept her relationships private. Even the most investigative tabloids have failed to get anything on Liz's relationships or prospects. Well, until recently, that is.
There have been pictures online of her and her new boyfriend, Eli Ayoub. She rarely posts stuff related to her personal or professional life, but pictures of the couple have been doing some rounds. If there is anything that we noticed in the pictures, it is that she looks quite happy. It is a rare thing to see celebrities divorcing and getting to settle happily again. Elizabeth Huberdeau is quite a rare breed.
The Divorce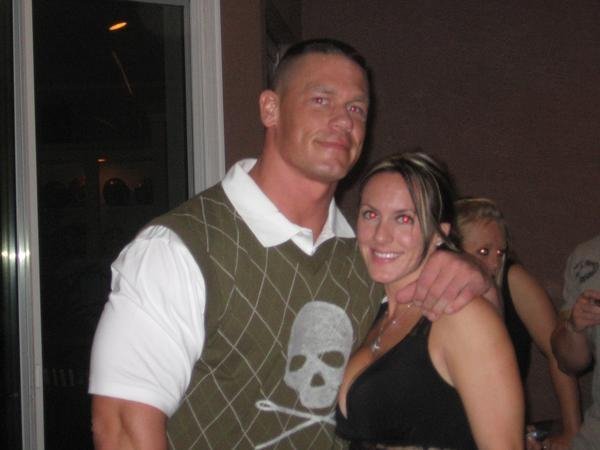 John and Liz used to be the poster couple for high-school relationships that blossomed into a marriage. They seemed perfect together, but it's sad their marriage did not last long. In 2012 after 3 years of marriage, John Cena filed for a divorce, pointing out that they could not agree on how they should remodel their house. Although this was the official communication, others suggested the fact that John did not want to have kids. And it was also one of the reasons for the divorce. Other suggestions include infidelity claims, some people were suggesting that Cena had an affair, and Liz did take the issue to court. The good thing is though the divorce was not that messy, and Liz was able to add several zeros to her net worth.
How about kids or pets?
Elizabeth has no kids, and it pretty much seems like she is going to keep it that way. She seems quite happy with her new lover, and, maybe, just maybe, we might get to see her holding a bundle of joy soon.
Liz is not known to have any pets. John Cena has a love for animals, but we can't say the same for Liz. We haven't seen her out with a pet, be it a cat or a dog. The news that she might settle down soon, though, might change a lot of things and might result in her getting a pet we will know about.
Liz and her money
After her divorce, Liz took Cena to court over allegations that he had broken terms of the prenup. The case was set to be messy, but it was later settled amicably, with rumors stating that Liz had received a hefty package. Some sources suggested that she could have received a huge amount upwards of 40 million dollars. We cannot, however, confirm these reports.
Most sources say that Elizabeth is worth around 10 million dollars. This is quite a lot of money, especially for someone who does not have a lot of interest in the entertainment industry. Liz made most of the independent wealth during the divorce, but she also has quite a huge name in the real estate industry. Chances are that her net worth is going to continue growing exponentially. Elizabeth buys a property, renovate it, and finally sell it. It is quite a lucrative industry also because she is popular. Her close people describe her as a shrewd and great businesswoman.
Life after John Cena
After her marriage to John Cena ended, Huberdeau went under the radar. She keeps a very low profile and does not post a lot concerning her life both professional and personal. She has managed to stay away from the limelight with pictures of her new beau appearing recently. We can only hope that she lets us in her life a little more. With that face and body, it is not surprising that she managed to find love again.
Liz settled in Florida. She has enough money to live in prosperity, and she does that. The money she got from John and the money from her real estate business is enough to keep her in the fastlane of luxury.
Admittedly, Elizabeth managed to show the world that high-school romance can result in marriage. She also managed to make sure that it is possible to find love again even after a divorce from a well-known star. She is quite an example of a financially independent woman who has managed to keep her name clean. She has tried to keep her life as private as possible, and we would have to agree that she has managed to do quite a good job.