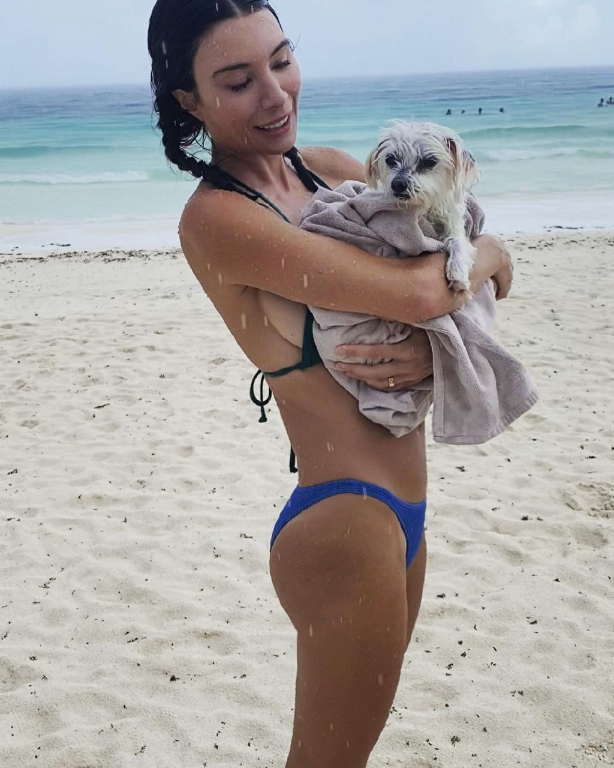 Lila West, Stacy Monroe, Gaia from Spartacus, Helena G. Wells, Antoinette from the Originals, or Nyssa al Ghul from Gotham – what character played by Jaime Murray you remember the best? No matter whom she plays, her roles always seem to turn out genius.
Acting, voice acting, modeling – what else does Jaime do?
21 July 1976, is the day of Jaime's birth and the beginning of her life in a family of Billy and Elaine Murray (not Bill Murray, but close). Being British from birth, Jaime speaks British English and that's why she had to learn to speak the American variant of English to play her characters in American TV-shows and movies.
Her name is pretty unique and may remind you of something. If so, there's an explanation for it. In 1976, Universal Television aired a TV-show called "The Bionic Woman". Elaine and Billy Murray enjoyed the show so much that they decided to name their daughter after the major character of the show, Jaime Sommers.
Although her father is an actor, it doesn't mean that it was easy for Jaime to become one herself. Why so? First of all, Jaime was diagnosed with dyslexia, a condition when a person has trouble reading despite normal intelligence. As you might guess, this would prevent her from succeeding in acting.
Secondly, she decided to become a psychologist after school. The London School of Economics gladly accepted Jaime to study philosophy and psychology. Who knows what would have happened if she stayed there? But, she didn't.
Instead, Jaime woke up one day, realized that she has this calling to acting, and entered the Drama Centre London. This acting university was perfect for the young girl and she gladly graduated in 2000. After that, the successful career of an actress was already waiting for her.
Do you know how Jaime's career started? Let me tell you. Is there any chance you remember this Stretch & Vern track "I'm Alive"? This is basically a remake of the 1979 song "Boogie Wonderland" by Earth, Wind & Fire. What I'm saying is that Jaime was in "I'm Alive" when she was 18!
Then, Jaime modeled for campaigns of department stores, GQ, Hello, Cosmopolitan, Mayfair, OK!, and many others. Modeling and miming were the things that helped Jaime to meet prominent directors, producers, and designers to further go into acting.
Her way to stardom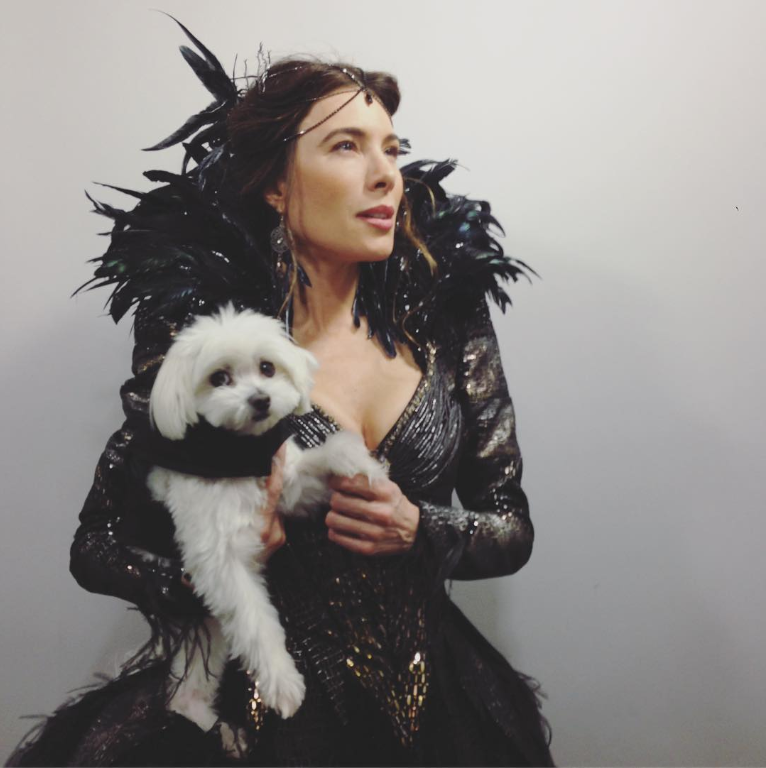 Right after graduation from Drama Centre London, Murray got her very first role in "The Bill". It was one episodical role but she managed to get other roles of this type later on. She played minor characters until "Hustle" creators invited her to portray Stacie Monroe. That's when the magic began!
She became famous and well-known to Americans and abroad and continued receiving role after role. But, now, it was up to her which role to take and which one to decline. After playing Helena G. Wells in the SyFy series "Warehouse 13", Murray proved that she's not only a drama actress.
One of her most exciting roles was Stahma Tarr, an alien woman from the Castithan species. Imagine yourself portraying an alien. What would you do? How would prove that you're an alien to the viewer?
In one of her interviews, her fans asked her what is more challenging: to portray a human or an alien. She said: "That's an awesome question! I think they both have their challenges. You know, when you're playing a human, you've got to be really authentic and truthful…But, I'm trying to be different enough so that you will buy that this woman is alien."
We can't help but mention her biggest role, Lila West in one of the most popular and biggest crime drama TV-shows in America. Her character showed up in season 2. This is a young woman, Sponsor for a Narcotics Anonymous Group who fought meth addiction.
Jaime did her best to get into character which she managed to do, by the way. A funny, easy-going, and sensitive person at first glance, Lila is a controlling and extremely manipulative person in reality. This is a charismatic and memorable character whom fans loved right away.
Dating Sharon Stone's ex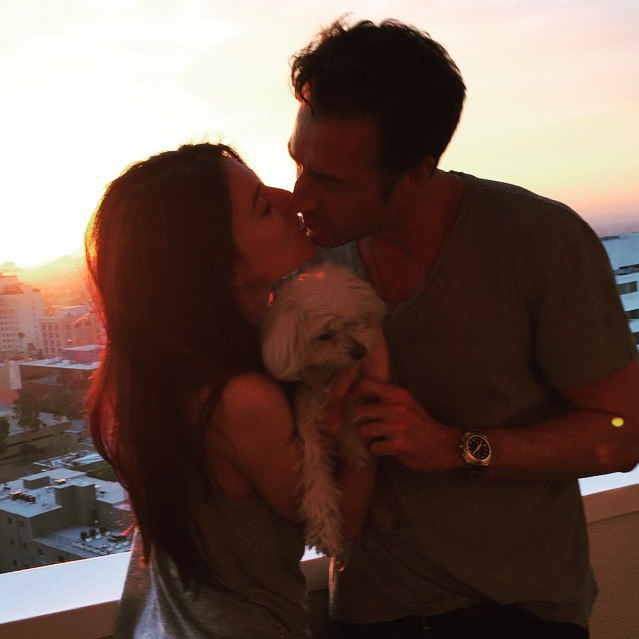 Jaime Murray and Sharon Stone apparently have the same taste in men. Bernie Cahill, a Hollywood talent manager, knows how to please famous women. After briefly dating the Hollywood star and cinema legend Sharon Stone, he fell in love with Jaime and married her 4 years after the start of the relationship.
He proposed to her during their flight to LA from Toronto. Jaime was completely surprised because she didn't even expect this to happen on a plane. Would you have been surprised as much as Jaime if your bf popped out the question like this?
2014 became the happiest year for the couple since they finally tied the knot in Ubud, Bali. It was the private ceremony for the love birds. Jaime was reportedly wearing a chic Monique Lhuillier dress, while Bernie was dressed in a white shirt and pants.
"It was pretty epic and magical", said Jaime Murray to People magazine about her wedding. They spent their honeymoon in Amankila and have been happily married ever since. The pair doesn't have kids. It seems that they don't want to have children together. However, who knows what's behind the curtain?
What is she up to now?
Currently, Jaime voices Carmilla in the American Japanese-inspired animated series "Castlevania". Another movie with Jaime, "The Rapture", saw the world in March 2020. However, it wasn't much of a success.
The next most important thing Murray is now up to is planet-saving. Her bio on Instagram says: "Actress, Activist & lover of Planet Earth". Then, we can see the link to Empowerment Collective, the charity organization that raises money to "empower, educate, and mentor disadvantaged women and girls in Nepal".
Jaime herself helps poor women in Nepal by making and purchasing handmade face masks. This is called the "1 Million Mask Initiative". "Words cannot describe how proud I am of my beautiful friend @_nasreensheikh… Her story is so powerful her actions so inspiring. Please help by buying these beautiful and brilliantly designed masks…".
Her latest post was dedicated to the International Day of the Girl on October 12. She says: "We must empower girls to stand up for their rights & show the world the incredible things they're capable of. Girls are a crucial part of reimagining a better & more balanced world 🌎 💖🙏🏽".
Where can you find her on social media?
The first place to go while looking for Jaime on social networks is… Instagram! Of course, it is. She has an account with 62,2K followers. Hew nickname is @msjaimemurray with the verification tick. There, she shares many photos of herself and charity activities she's engaged to.
Another social network that Jaime enjoys using is Twitter. She has been sharing a lot about politics, election, and Trump lately on Twitter. Her nickname there is @MsJaimeMurray. She's got 90,9K followers and the verification tick next to her name.
Facebook is full of fake accounts of Jaime or other Jaimes, but she appears to ignore Facebook. Murray has never made her appearance there and she's not planning to either. She doesn't make videos on YouTube so you can only find her interviews with other outlets there.