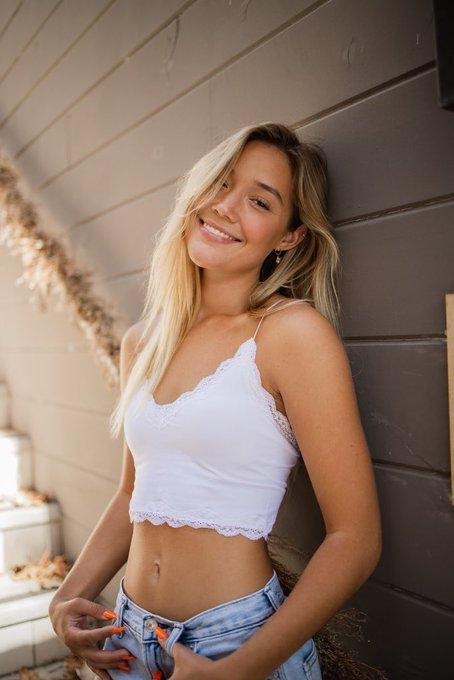 As 2020 saw TikTok grow in popularity, so did the fortunes of Olivia Ponton. At 18 years, the model and social media influencer has had her following increase to over 4 million fellow users and become a celebrated TikToker. This rise to fame has led to her joining ranks of the popular TikTok group, Hype House. So who is Olivia Ponton?
Olivia Ponton's Early Life
Born Olivia Marie Ponton on May 30, 2002, Olivia has grown up a Florida girl in Miami. Her parents' identity is not in the public domain, and she seems to want to maintain it like that. She attended Naples High School, and there, she was part of the track team. During her high school years, Olivia competed in track and field events that included the 4 x 100 relay and the 60-meter sprint. Her love for sports has gone further post-high school into cross country, water skiing, and yoga. Through her social media platforms, she is always advocating for healthy and active living.
Olivia Ponton Gaining Influence on TikTok
Olivia started posting as far back as June 2016 on Instagram and has since amassed a following of at least 2 million Instagram users. It is on TikTok where she has caused waves and has over 4 million followers and 170 million likes for her content. To cap it off, Olivia Ponton is a member of Hype House, a clique of the social media platform's biggest influencers and crowd pullers. 2020 saw Olivia cast her sights wider in social media by starting up a YouTube account and got over 36 000 subscribers. Her first video on the site has over 252 000 views.
Olivia Ponton Net Worth
Sadly, there is no definite source to verify Olivia's net worth with multiple accounts on various platforms.
Olivia Ponton Length
The 5′ 9" tall model is a member of the renowned modeling agency Wilhelmina International Inc. Though having grown up in Florida, Olivia hopes to relocate to the Big Apple, New York City, to further her modeling career. She views the city as an opportunity to grow, and she believes it would open doors for her in the industry.
Model & TikTok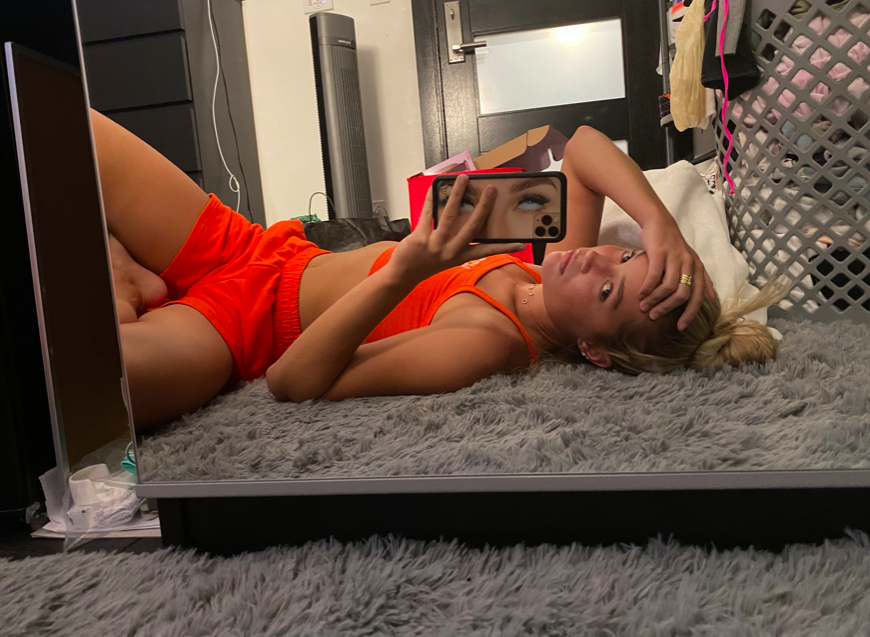 Olivia is passionate about many things: traveling and learning other cultures rank high on that list. Interestingly, it is her love for traveling that got Olivia noticed on social media as she has been sharing photos from her travels. Olivia has traveled to 15 countries, and she briefly attended schools in Costa Rica and Nicaragua. Whilst there, she helped her fellow students learn English.
Her Positive Attitude
The social media space comes with fun and excitement, but it has a dark and cruel side, too. Stardom in this space means a lot of avid fans. Yet, there will also be countless users with negative comments. Olivia has tried to remain levelheaded and not be drowned by either of the two sides of social media. In her posts and content, Olivia is always trying to spread positivity and encouraging her followers to value themselves. As the Wilhelmina website profile describes her, Olivia seeks to inspire other women through her content.
She views fellow influencer Alexis Ren as a role model and inspiration. Olivia says one of the key reasons for it is Alexis' drive to bring awareness to less widespread topics, according to The Teen Magazine.
Who Is She Dating?
Earlier in 2020, Olivia and Kio Cyr, a fellow influencer and social media star had announced they were in a relationship. It got followers of the duo excited about how it would unfold, but sadly, the relationship was short-lived as it went on for just 4 months. The couple announced that they had broken up in the summer of the same year. Olivia and Kio did not share the particular details as to what's happened but did make it known to the public that they retained an appreciation for each other despite the breakup.
To the Future and Beyond
Olivia has always wanted to take up formal education and seeks to do that in architecture by her admission. According to her interview with The Teen Magazine, she wants to major in architecture and minor in interior design. It is something she has had in mind since middle school, showing she is laser-focused.
What Is the Hype House?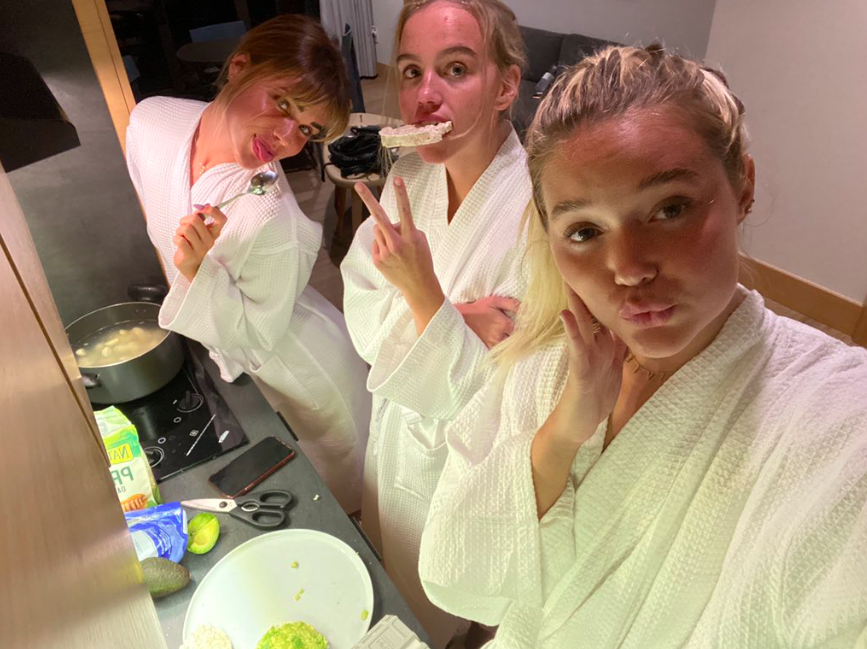 One of the biggest collaborative spaces on TikTok, Hype house is both a place and a group. It is made up of young and vibrant TikTokers with a large following. Hype House was formed in December 2019 by Chase Hudson, then 17, and Thomas Petrou, then 21. Since then, it has grown to have at least 20 TikTok stars. The group was already making waves: it was featured in the New York Times a month after inception.
Hype House has both live-in housemates and others who pop in when in town. Don't be fooled; it is not a partying house, but a serious business space as one of the rules is to make content every day, and there is strictly no partying.
Their numbers are staggering. They have over 100 million followers. Their hashtag #hypehouse has more than 362 million views on TikTok alone, and their collaborative account has over 139 million likes since their first video.
Controversy with 6ix9ine
Olivia and other fellow TikTokers, Tayler Holder and Ondreaz Loper posted videos with the infamous rapper Tekashi 6ix9ine after a visit to the Hype House. The videos were received with disdain and uproar from fans and fellow TikTok celebrities who reminded Olivia and the crew about 6ix9ine's criminal record. It prompted a takedown of the posts by Olivia and her friends.
With this post came a rumor that Tekashi and Olivia made out at the house. There were unsubstantiated claims of a video showing it happening. Yet, it has never made it into the public domain, leading to thoughts that it was merely a smear campaign.
Who Is Tekashi 6ix9ine?
The rapper Tekashi 6ix9ine made headlines in December 2019 after pleading guilty to nine criminal charges: racketeering, carrying a firearm, assault with a dangerous weapon, and others. He only spent two years in prison as he served as a witness in court against the Nine Trey gang.
Tekashi had a prior conviction to it as he had been sentenced to four years' probation in 2018 by a Manhattan court for charges going back to 2015 for use of a minor in a sexual performance.
In 2020, whilst serving his 2 years, Tekashi asked to serve the rest of his sentence at home due to the Covid outbreak and his pre-existing asthmatic condition.
Ever since Tekashi 6ix9ine has been a target on social media platforms, he is always attracting vile engagement.
Other Thing You Need To Know of Olivia Ponton
• She has siblings.
• She loves pets.
• Her hobbies include dancing and singing.
• She is a Gemini.
• Her favorite color is pink.
• She spent time in the summer of 2019 traveling throughout Europe.
• She has collaborated with a fellow influencer, Taylor Machat, on her Instagram account.